2021-7-14 16:37:49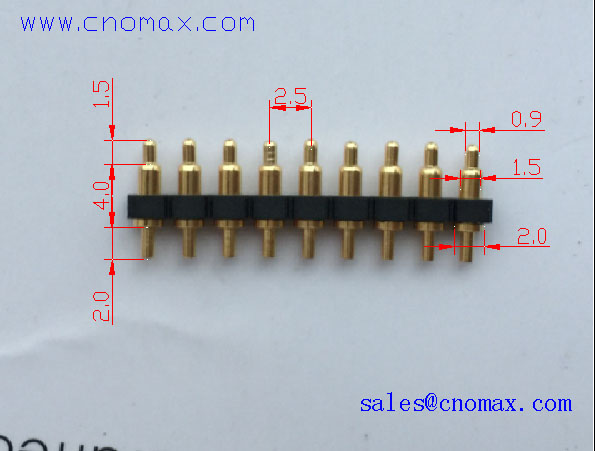 About properties of Pogo pin
1. High temperature resistance, the highest working temperature of
Pogo pin
spring thimble at this stage is 200℃, and the low temperature is -65℃.Since the current will emit heat at the contact point during the operation of the connection, causing the temperature to rise, it is generally assumed that the operating temperature should be equal to the sum of the ambient temperature and the temperature rise at the contact point.
2, salt spray resistance performance, when
POGO PIN
spring thimble is applied in the working environment containing moisture and salt, its metal structure parts and contact parts surface treatment layer will be eroded, thus affecting the physical and electrical properties of the connector.A salt spray test was performed to determine the connector's ability to withstand moisture and salt.In this test, the connector is suspended in a temperature-controlled chamber and compressed air is ejected with a specific concentration of sodium chloride solution to create a salt spray atmosphere. The exposure time of the spring thimble will be specified by the product specification for a minimum of 48 hours.
3, vibration and impact resistance, resistance to vibration and impact is pogo pin spring plunger two important performance of electric connector, in particular the use of the environment, such as aviation and aerospace, railway and highway transportation is very important, in the vibration and impact resistance is the robustness for testing connector mechanical structure and electric contact reliability of important indicators.
CNOMAX POGOPIN Factory is a collection of research and development, manufacturing, sales mode, mainly engaged in the development and production of all kinds of
POGOPIN
and POGOPIN connectors, shrapnel terminals, and CNC automatic lathe parts, but also according to the customer sample for production and processing, product types up to more than 4000 kinds, for customers to choose.Please contact for consultation.
If you need to know more details about pogo pin.
Please contact Cnomax Pogo Pin Factory
Our sales: Pogo Pin,Spring Loaded Pin,Pogo pin connector,Connectors PIN,magnet charging connector, wire connector,precision automatic lathe parts,military special connector,lead-free halogen-free precision connectors and other electronic product parts.
Cnomax Pogo pin factory
Contact: Jerry
Skype: jerry_shi2010
Phone: +86-13652508770
E-mail: [email protected]
Address: ChanFu Dong Road,XiaoBian Village, ChangAn Town,DongGuan City,GuangDong,China