2022-9-15 10:57:21
Thread Pogo pin SR-02-Ni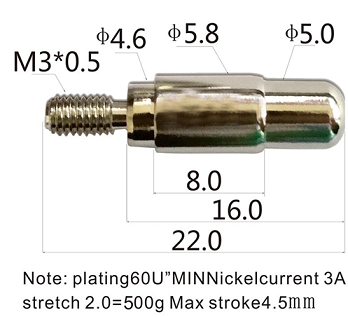 Today, we're talking about Thread Pogo Pin, a nickel-plated
Thread Pogo pin
Because it is nickel plated, so the surface appears very bright, but also has a good conductive effect. Under static test conditions, the maximum current can reach 3A. From the needle contact to the screw position, can have a good current transmission stability. Because the needle is designed in a vertical plane, it can better increase the contact area. The diameter of the needle is 5.0mm, so it has better support strength and better wear resistance in the process of use.
The design diameter of the needle tube is 5.8mm, which saves the maximum space in actual use and facilitates the layout of the circuit. The 5.0mm needle can be moved up and down because of the internal spring between the needle and the needle. When the needle is pressed down, it slowly presses a section into the needle tube. The maximum size is 4.5mm, so when designing Thread Pogo Pin, you need to calculate exactly how it will travel if you want to use it.
The end of this needle has M3 screw design, its purpose is to better fixed in PCB or product internal structure, and can be easily removed and installed, without soldering tin, can achieve a good conductive effect.
The Thread Pogo Pin is made of lead-free copper except SUS304 for the spring, which fully complies with the latest European Union RoHs standards.