2022-9-19 11:56:16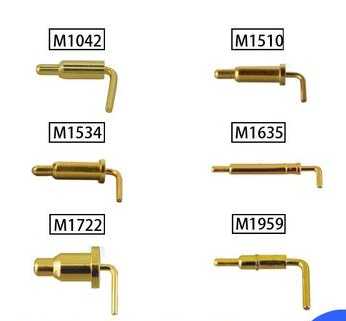 Right Angle Pogo Pin is mainly for the internal space design requirements of the product
All of our products meet RoHS and halogen-free requirements. Based on your space size, plating treatment, impedance size, life requirements, Housing spacing, etc., you can visit our website www.pogo-pins.com for different choices.
Today, Cnomax offers a range of
Right Angle Pogo Pin
connector products.
Pogo Pin
is a special connection technology in the connector industry. In the past few years, this reliable technology has been adopted by some of the world's leading manufacturers and successfully used in more than 100 electronic products, such as mobile phone batteries, antenna connections, GPS positioning systems, laptop computers, video game equipment, outdoor street lights, hearing AIDS, radio receivers and so on.
At present, with the development of the market and the upgrading of product technology, more and more consumers are not only limited to the multi-function of products, but also they pursue fashionable appearance and small and thin shape. But building and designing such a product is a huge challenge for all electronics engineers. Because of the structural design space and the standard specifications of the connectors, it was difficult for engineers to have a good choice to complete it. Based on this, our R&D engineers used the unique advantages of probes to generate a concept and come up with a way to help these product engineers solve the problem of in-product connectivity. In addition, Pogopin has obvious advantages in the use of structure space, assembly cost, life, sample cycle and cost.
1. The Barrel
About the design of the needle tube, to match your structural space and product function needs, as well as the guarantee of life, we submit to us
For you to choose from. At the end of the needle tube, the convenience of fixing the product on the PCB and the welding depth are considered
We have a flange design to ensure that, in addition, regarding the battery connection we also provide a quadrangle and
Bending 90 ° pogo pins
2: the Plunger
The basic material selection is similar to that of the needle tube, with the only difference being tool steel SK4, which we chose as the needle shaft
For it has a relatively good hardness, also conducive to turning machining, it is a good option on the needle shaft head type protection, it
Heat treatment is required to achieve a hard structure and maintain tip integrity. All the above materials can be convex by our CNC
Engine turning processing.
3: spring
The spring is made of a high carbon steel material, known as SWP(Jean steel Wire), which has good tensile properties and can produce very good
Mechanical life and large elastic value, but this material is a highly magnetic material, easy to rewind at high temperature, and
Easy to corrode, so it must be treated before use: as for stainless steel material, it is a low magnetic material with high resistance
Temperature, usually it is a public choice: regarding beryllium copper, it comes with excellent fatigue and low impedance, but its pull
The extension characteristics are relatively poor, and it is usually not a good option when the wire diameter is small and the force value is required.
Electroplating process
As mentioned above, springs are made of beryllium copper, stainless steel, and piano steel wire, each of which has its own unique characteristics in playing
Spring design areas such as some basic considerations: operating temperature, impedance, elastic requirements. Springs are treated with silver or gold, silver
Can deliver good electrical conductivity and high thermal performance, gold plating can prevent oxidation and corrosion.
The needle tube is a turning and deeply processed part. Usually, it needs to go through two processes: nickel plating and gold plating
A nickel bottom treatment is required, usually 1 to 2 microns thick (40U "=1 micron as often said), and gold plating is the usual surface
The thickness of the treatment layer is basically 0.1~10 microns. For small diameter and relatively long blind hole tube, formed when plating the inner wall
A challenge, usually we will cut a side hole at the bottom end, so that the bath is sufficient to form a reflux at the bottom of the tube, to ensure that the inner tube bottom
Precipitate to the gold component. Or we will inform the customer of the basic ratio of the design: length and inner diameter of the tube.
Needle shafts are almost always GOLD-plated, which is THE PREFERRED treatment because of gold's excellent electrical conductivity and oxidation resistance
Force. In addition, the thickness of gold plating absolutely affects the life of the whole product, because of the cost consideration, we will choose nickel bottom treatment
And the thickness of the final gold plating. As with some other plating solutions, such as rhodium, palladium and some noble materials, no
The same product will have some different needs.