2022-9-21 9:09:30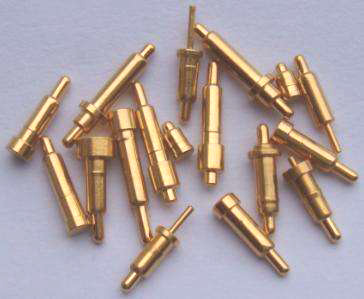 Pogo pin material is mainly made of copper, and requires surface treatment to make it have corrosion resistance and friction resistance and other properties. Typical surface treatments are nickel plating followed by gold plating and copper plating followed by tin plating. The following is a simple analysis of the plating process, equipment, products to be plated and electroplating of the connector surface treatment process.
Pogo pin
electroplating process is the same as the general electroplating process, but the operation time of each process is significantly shorter than that of the general electroplating. Therefore, the treatment solution and plating solution must be adjusted accordingly to meet the requirements of short operation time. Following Jing honest industry Xiaobian to understand the gold-plating process of Pogo pin.
1, degreasing: different from the general electroplating process, Pogo pin degreasing time is 2~5 seconds, so to use high current density under the multi-section electrolytic degreasing.
2, pickling: due to the size requirements of the gold plated genus, Pogo pin is usually used chemical grinding or electrochemical grinding, rather than metal self-dissolution.
3, nickel plating: Pogo pin usually uses sulfamate plating solution. The purpose of nickel plating is to provide a bottom coating for gold and tin plating to improve corrosion resistance, and prevent the substrate (mostly copper alloy) and gold layer, or with lead layer of mutual diffusion resulting in the performance of the electroplating coating.
4. Gold plating: Finally, according to the actual requirements of the customers, the surface of Pogo pin is gilded. At this time, the final thickness of gold plating can be determined.
1. Aviation, aerospace, military communications and military electronics.
2, car, vehicle navigation, test and measurement equipment.
3, data communication equipment, telecommunications equipment, automation and industrial equipment, wireless equipment.
4, data line, charging line, magnetic suction line board line end connector.
5. Consumer electronics (printer, mobile phone, computer, camera, audio-visual equipment, PDA, Bluetooth headset, etc.).
6. Smart wearable devices (smart watch, smart bracelet, smart glasses, Bluetooth headset, wearable phone, VR, etc.)
7. Intelligent equipment (intelligent positioning equipment, intelligent robot, UAV, etc.)
8. Medical equipment (temperature measurement products, medical capsules, rehabilitation physiotherapy equipment, blood pressure monitor, heart rate monitor, etc.).
The gold-plated Pogo pin charging contact has the following characteristics when applied to the Bluetooth headset:
First, small size: wearable devices pay attention to compact; So the Pogopin charging thimble contact for Bluetooth headsets needs to be very small.
Second, anti-oxidation and corrosion: most sports enthusiasts like to listen to music while doing sports. Because human sweat is corrosive, the charging contact of Bluetooth headset is required to be anti-oxidation and corrosion, so as to ensure that the charging contact of Pogopin is not corroded by human sweat and does not affect the use function of Bluetooth headset.
Third, waterproof: accidental falling into the water and sudden rain is difficult to avoid, then the Bluetooth headset needs to be waterproof, charging contact as the only point connected with the outside world, in the process, it needs to do a good waterproof treatment.
The above is the process of gold-plating Pogo pin, I believe you have a certain understanding, I hope to help you!