2016-8-3 17:31:04
About Pogo Pin constituent part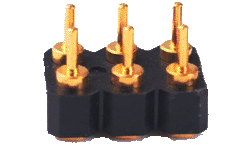 A
Pogo pin
is a device used in electronics to establish a (usually temporary) connection between two printed circuit boards. Named by analogy with the pogo stick toy
the pogo pin usually takes the form of a slender cylinder containing two sharp, spring-loaded pins. Pressed between two electronic circuits, the sharp points at each end of the pogo pin make secure contacts with the two circuits and thereby connect them together.
How to order:
1.Please tell us which Pogo Pin will you need,And you can selected from the product catalogue(we have SMT,DIP and Soldering style)
2.We will offer our best price for you.
3.After you confirmed the price,we start to prepare the sample(usually within one week)
4.After you confirmed the sample,you place an order.(you can T/T,or pay to our Paypal)