2018-1-23 15:37:16
How to custom Pogo pin ?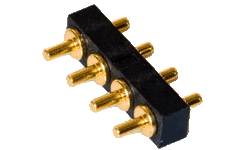 Digital, communications, medical, automotive, aerospace and other industries of electronic products can use
Pogo pin
as a precision connector, with the constant innovation of science and technology, on the one hand, electronic products, such as weight, appearance, performance requirements for the connector is higher and higher, on the other hand, electronic product update quickly, although currently on the market of POGO PIN specifications has a lot of, still have not meet the requirements, you need to customize according to the requirements of electronic products production, so what's the process custom
Pogo pin
?
First of all, is a customer with the POGO PIN factory preliminary communication.Custom
Pogo pin
is the first step in the manufacturer's option, the customer requirements of product to the factory, the factory according to their own actual situation, consider whether their products can meet the technical requirements.
The second is the POGO PIN design and sample production.And after customers determine the cooperation intention, POGO PIN factory samples according to the requirements of customers design and production, and make the necessary performance tests, including the structure of the product and the current, signal whether meet the requirements of the products.
Finally the POGO PIN prototype confirmation.Factory after professional performance test and optimization, making the POGO PIN samples, customer inspects whether the sample meets the requirements, including production technology, appearance, structure, weight, material, etc., if the samples meet the requirements, to confirm, manufacturers to start mass production, if do not conform to the requirements are optimized to make further confirmation.
Choose the professional production factory is the key to customize the POGO PIN, professional manufacturer will according to the customer's various needs, provide the most reasonable and economic design scheme of each processing details are put in place, to provide customers with high quality
Pogo pin
products and services.