2018-4-11 11:05:14
About Magnetic pogo pin connector development trend of market competitiveness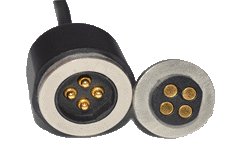 Magnet connector is composed of PogoPin and magnet, can also be called magnetic connector or magnetic suction, through magnet contact to suck, complete equipment such as electronic products adsorption connection.In recent years, the magnet connector was more and more industry for product and charge reference, magnet connector due to use convenient and humanized automatic adsorption, more and more attention to use, so the magnet connector development situation is also a good market competitiveness.
Nowadays, all kinds of industry is a growing demand for this magnet connector, connector makes magnet products more competitive.In various businesses keen competition, as a professional manufacturer of magnet connector more need to think about a problem, how to make magnets connector has more market competitive power.
Cnomax think science and technology, to make the magnet connector is an advantage in the market, we are the manufacturer of the most important is to grasp the latest technology and products of the magnet connector, and need to continuous innovation, the use of advanced technology to increase the productivity of the magnet connector, reduce the production cost.Magnet connector between the manufacturer and relevant equipment manufacturers to work well with each other, common production high quality product, reduce the production cost.To communicate with customers well, the first time to design the most perfect suitable scheme, is the only way to win the market competitive power, to get customer's approval.
Magnet connector in order to improve market competitiveness, receive the user's satisfaction, our manufacturer should constantly sum up the experiences of production and innovative customer solutions, guarantee the quality of the product.The advantages of learning foreign magnets connector, walk at the top of the magnet pogo pin connector of production technology, research and development can produce the best vibration and impact resistance, high current and overload capacity, and can adapt to various working environment temperature.
Cnomax electronic affirmation, in the future, the magnet connector industry will have a better development trend.Magnet connector industry development not only can promote the further deepening of the network information era, is also the embodiment of the rapid development in the production of connector technology.We also persistent, continuous efforts for the magnet pogo pin connector market competitiveness.