3Pin pogo pin broadside connector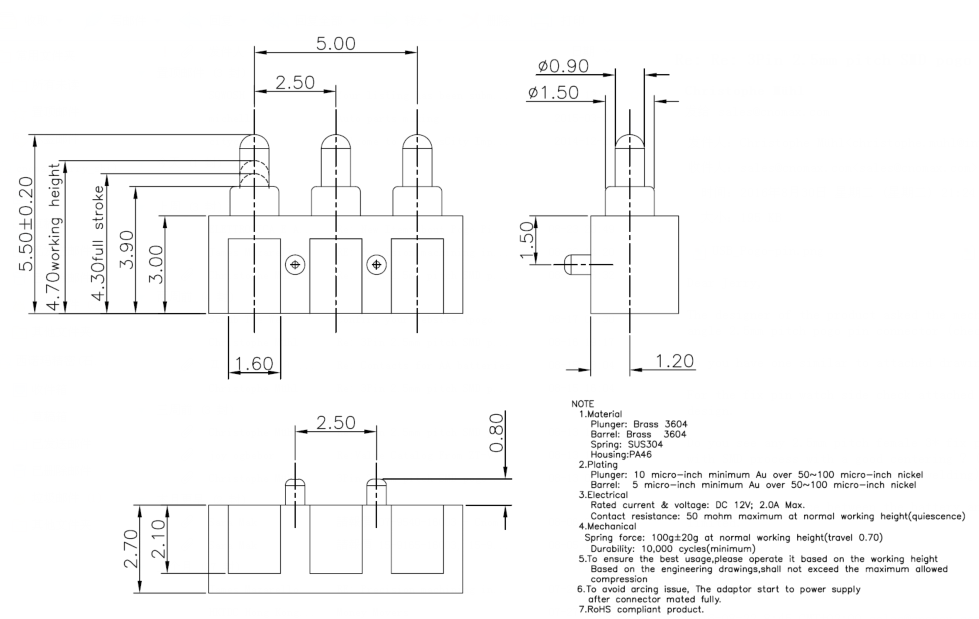 Main research and development,production,sales: Pogo Pin,Spring-Loaded Pin,Pogo pin connector,Connectors PIN,magnet charging connector, wire connector,precision automatic lathe parts,military special connector,lead-free halogen-free precision connectors and other electronic product parts.
High electrical conductivity is a key criterion in choosing gold to plate the plungers. Gold offers at the same time excellent protection against corrosion and oxidation. The barrels are normally plated twice (firstly with 1-2 µm Nickel followed by 0.1-1µm Gold). Excluding stainless steel springs, springs are coated with gold or silver.
Alternatively, we offer other precious metal plating of the plunger with (Nickel or Rhodium, etc.) where product application requires this or the customer requests a specific plating for Pogo Pin.
The basic component used for making electrical connections in a wide array of electronic equipment is the Pogo pin receptacle. Sometimes referred to as PCB sockets, micro-plugs or connector jacks, machined pin receptacles are known for their reliability and versatility. Used discretely or in connector arrays, receptacles make devices and modules pluggable for repair and replacement.
How to order:
1.Please tell us which Pogo pin will you need,And you can selected from the product catalogue(we have SMT,DIP and Soldering style)
2.We will offer our best price for you.
3.After you confirmed the price,we start to prepare the sample(usually within one week)
4.After you confirmed the sample,you place an order.(you can T/T,or pay to our Paypal)