Product Show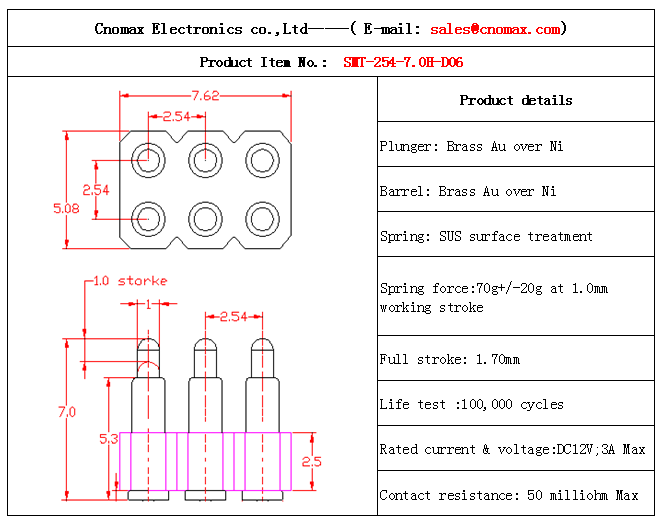 7.0mm high 6pin double row spring-loaded pogo pin supplier
Product Numbers:201781816399
Product description:7.0mm high 6pin double row spring-loaded pogo pin supplier
INTRODUCTION:
7.0mm high 6pin double row spring-loaded pogo pin supplie
r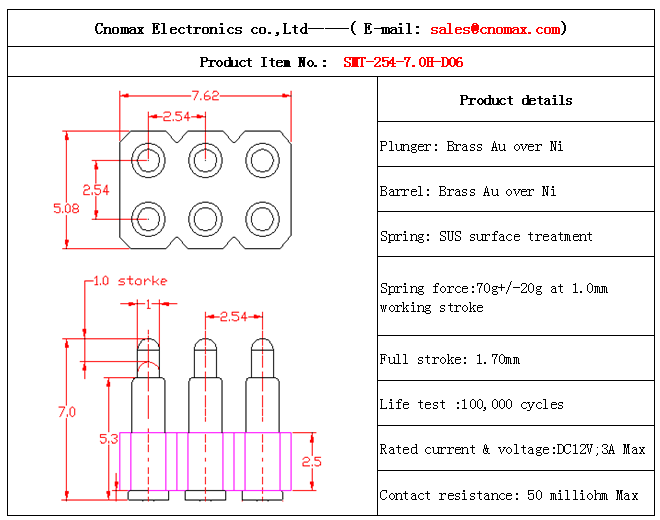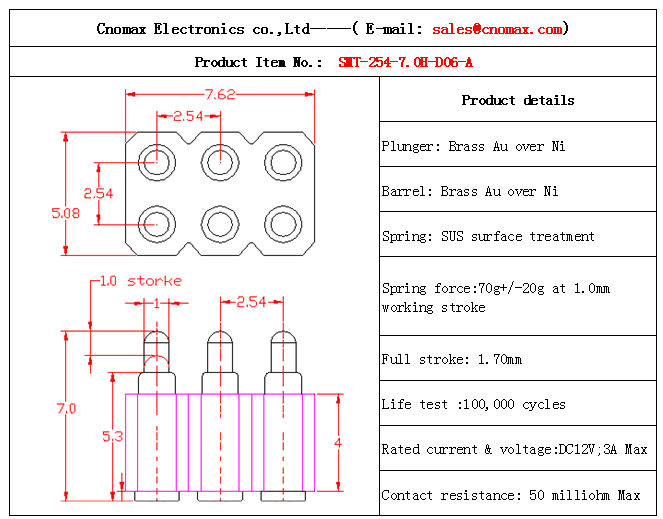 Single Pogo Pin Contacts provide 10,000 mating cycles and offer broad compressed stacking heights ranging from 2.0mm up to 5.5mm to accommodate almost any application. Each contact height provides the maximum working range and compressed height tolerance possible. The 70-9150 Series Single Pogo Pin Contacts from Cnomax are designed to mate with gold-plated PCB pads or flat contacts in docking/cradle applications. The gold-plated contacts provide high reliability and signal integrity over 10,000 cycles. Removable pick-up cap facilitates automatic placement for SMT reflow
Spring Contact Probes are used often, for example, in detachable electrical devices such as battery chargers, loading stations and compartments and also as flexible Signal and Power Supply interfaces found between circuit board assemblies. As well as our standard range of Pogo Pin, we meet specific customer requirements and consult where necessary.
How to order:
1.Please tell us which Pogo Pin will you need,And you can selected from the product catalogue(we have SMT,DIP and Soldering style)
2.We will offer our best price for you.
3.After you confirmed the price,we start to prepare the Pogo Pin sample(usually within one week)
4.After you confirmed the sample,you place an order.(you can T/T,or pay to our Paypal)