Product Show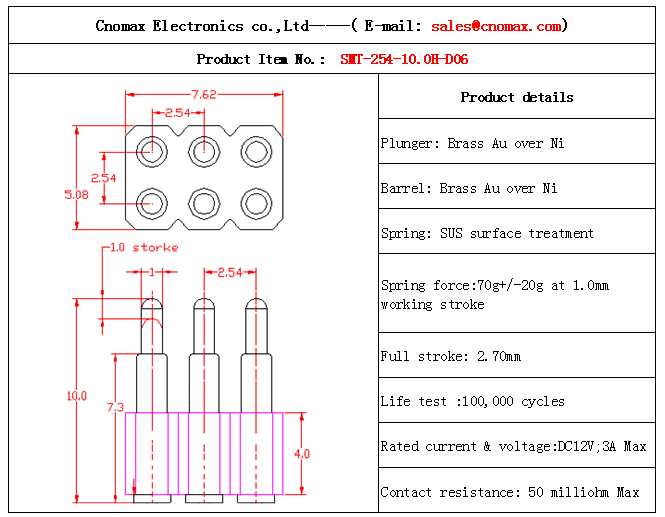 10.0mm high 6pin pogo pin connector supplier and manufacturer wholesaler
Product Numbers:2017818165126
Product description:10.0mm high 6pin pogo pin connector supplier and manufacturer wholesaler
INTRODUCTION:
10.0mm high 6pin pogo pin connector supplier and manufacturer wholesaler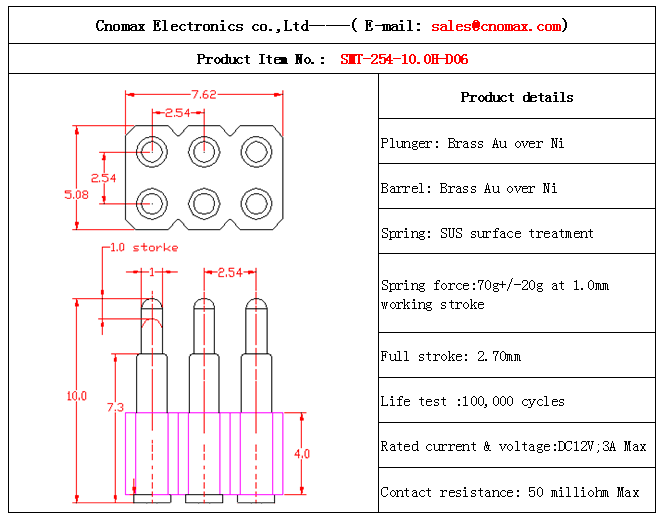 A
Pogo pin
is a device used in electronics to establish a (usually temporary) connection between two printed circuit boards. Named by analogy with the pogo stick toy
the pogo pin usually takes the form of a slender cylinder containing two sharp, spring-loaded pins. Pressed between two electronic circuits, the sharp points at each end of the pogo pin make secure contacts with the two circuits and thereby connect them together.
Cnomax fully leverages its broad range of elemental technologies to develop
Pogo pin
that respond to the needs of the coming era and to provide technologies for mass production. Our operations encompass all processes on an integrated basis, from the design and manufacture of optimal production equipment to mass production. We produce the majority of our production equipment, dyes, jigs, and tools in-house, using cutting-edge machine tools. We also strive to establish innovative production systems to achieve more sophisticated automation across a broader array of fields and to globalize our
Pogo Pin
production bases.