14.0mm high 6pin china Mill-max spring-loaded pin connector wholesaler supplier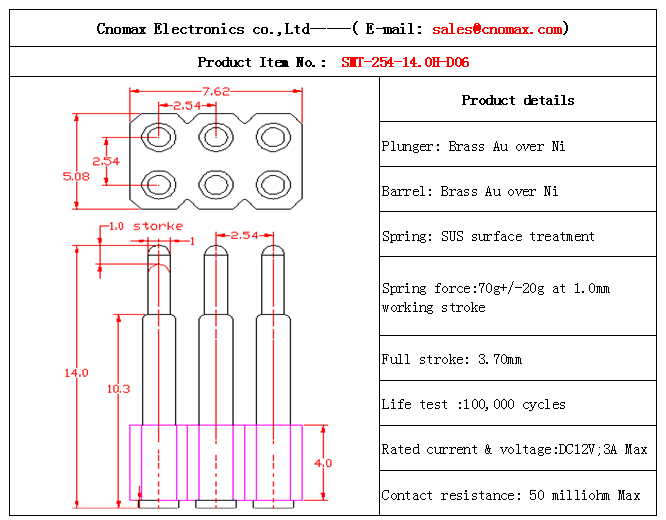 1.Customize high current charger pogo pin more 1600 items(2A-30A)
2.Customize Pogo pin connector more 300 items(2pin-60pin)
3.Development 1.27Pitch 2-40pin standard products(6mm-15mm pin's length)
4.2.54mm pitch, 2-40pin standard products,housing height 1.27mm
5.Development 2.54pitch 2-128pin male & female pogo pin connector(4.5mm-15mm height)SMT/DIP
(Through-hole)/Right Angle/Solder Cup Type.
Pogo Pin Connector definition: It is refers to all use on the electronic signals and power CONNECTOR component and accessory parts, connectors are all signals of the bridge, the quality of fire not only affects the reliability of electric current and signal transmission, and will affect the overall operation of the electronic machine quality.
How to order:
1.Please tell us which Pogo Pin will you need,And you can selected from the product catalogue(we have SMT,DIP and Soldering style)
2.We will offer our best price for you.
3.After you confirmed the price,we start to prepare the sample(usually within one week)
4.After you confirmed the sample,you place an order.(you can T/T,or pay to our Paypal)